About Us

Rose Haven Nursing Home, is a privately owned 60 bed Skilled Nursing and Intermediate Care facility (SNF/ICF) located in the Iowa River Valley in Marengo, Iowa.
Our facility provides 24 hour nursing care, physical, occupational and speech therapy, rehab services, dietary consultation, housekeeping and laundry services, social services, activities, and lab services to our residents within the comfort of their living environment.  We work closely with local hospices to provide quality end-of-life care.
The Lodge on Lafayette is a 10 unit independent living facility which opened in 2001. Our mission is to provide a cost effective quality service, personalized for people over the age of 60. The Lodge on Lafayette fosters independence, individuality, health and physical security for our tenants while preserving a quality and dignity of life, nurturing of the spirit and allowing choice of different services and lifestyles.
Explore our site and learn what Rose Haven and the Lodge on Lafayette have to offer the residents of East Central Iowa.
National Quality Award Program
The American Health Care Association/National Center for Assisted Living's (AHCA/NCAL) National Quality Award Program provides a pathway for providers of long-term care services to journey towards performance excellence. The program is based on the core values and criteria of the Baldrige Performance Excellence Program:
Measurement, analysis, and knowledge management
The program has three progressive step levels: Bronze, Silver, and Gold. Facilities must achieve an award at each level to progress to the next.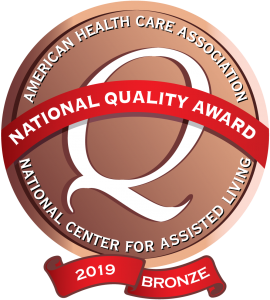 To All Rose Haven Staff,

It has taken me a while to get through all of the arrangements on behalf of my mother, Ruth, and this is the last thank-you note I have left to write. I'm not sure how to express our gratitude in a way that is appropriate and complete.

You all were like family to my mom. She appreciated everything you did. You provided a lot of love, support, and friendship. That meant A LOT to her and us. Thank you so much for all you did for her and us when we visited. You were kind of like family to us too. You made us feel comfortable and welcome. You answered questions and gave us a lot of your time. We will miss seeing you. But we will try to stop by when we can.

Thanks for everything! God Bless.
The Norton Family
Dear Rose Haven Staff,

Sorry it took me so long to write this letter. But, besides putting my mom in the nursing home, this letter is one of the hardest things I had to do. I would like to tell the staff of Rose Haven how grateful I am of all of you. There are not enough words or money to express my thanks. You are all wonderful caregivers. All good things you deserve.

I would usually visit mid-morning and bring her into the lunch room and then leave. I did it so she was occupied when I left. Mostly I did it for me. When I left someone was hugging, reading or talking to her. I knew she was being well taken care of.

I have friends with relatives in other nursing homes and they could never come close to saying the good things that I could say about my mom's care. My daughter and I had lots of fun with my mom. Going to really miss her.

Again thank you, thank you.
Love, Cindy Starr and family
Our mother has been at Rose Haven since 2014. 1/15/2020 she passed through the doors for the last time. As our family gathered to spend her final hours together I realized one thing that became very obvious. Rose Haven staff and the residents there were all like family. To watch staff members come to say good bye to mom and cry as they walked out made me know in my heart that they all care deeply for our loved ones. We thank all of the staff. I'm not rating out a certain cook, but mom loved it when you gave her mostly broth and very few noodles in her chicken and noodle soup. You are a very special bunch of people.
Why Rose Haven? I have spent hundreds of hours over the past eight plus years visiting my 98 year old mother, who is a resident at Rose Haven Nursing Home. When I've been there that many hours, I view what attention is given to the other residents. I see quality, personalized attention given from a caring, concerned staff. The staff is friendly, knowledgeable, respectful, kind, comforting and really gets to "know" the resident that they are assisting. They spend more time with my loved one than I do. The staff that I am talking about is the entire staff including RNs, LPNs, CNAs, cooks, maintenance, cleaning crew and the business office. Seniors are one of the most vulnerable age groups in our state. I truly believe Rose Haven provides the superior care that my mom deserves. I trust that they take loving care of a very important person in my life, my mom. She deserves to feel safe, secure and loved in her everyday life. She deserves the best home away from home.